Top 10 Laptops Of 2018 What Are The 10 Top Laptops of 2018?
One does not just walk into a store and purchase the first laptop he sees these days; they're a pretty big investment! Everyone wants to get all the great features they have in mind with their purchase. Laptops have become somewhat of an extension of who we are. They say a lot about us. Everyone knows the stereotype of the young male Mac Book user.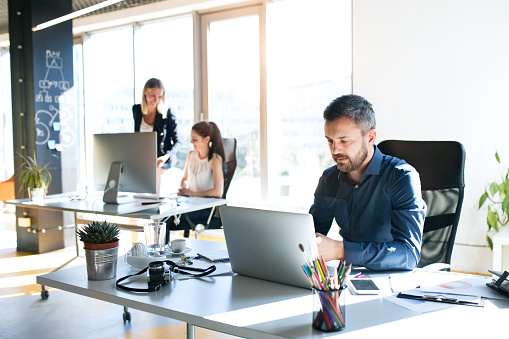 Today's laptop industry is jam-packed with impressive models, and if you're of the notion that laptops make the world go 'round, you'd do well to spend some time on your research before committing to just one. If it sounds like we're talking about a committed relationship like between two people, we're not! Your relationship with your laptop is much more important!
Brands like Apple, Dell, and Lenovo are at the top of their game, and with so many other great options to choose from, laptop shoppers certainly have their work cut out for them. We've rounded up the best of the year, measuring everything from portability to design and, of course, performance.
Here are our picks for the 10 most worthy laptops of 2018.
Number One: Dell Latitude 7390 2-in-1
Dell's Latitude models have always given the industry's top laptops a run for their money. The Latitude 7390 2-in-1 is more of the same, only slightly better with the addition of a few new features, such as Microsoft's Precision Touchpad. In addition to features like Windows Hello facial recognition, and other security upgrades, a major perk of the new model is its portability. Weighing in at just three pounds, it's easy to tote around, especially with its 2-in-1 convertibility. It also comes complete with a backlit keyboard with deep keys for comfortable typing.
Number Two: Apple MacBook Pro
Mac users are loyal and with good reason. The Apple MacBook Pro, for instance, is one of the best money can buy, and worth every penny if performance ranks high in your list of must-have qualities for a laptop. The newest version boasts plenty of updates to keep things interesting, including a Touch Bar and capabilities for 32 GB of RAM, a significant bump from the previous max of 16 GB. Inside you'll find an eighth-gen Intel Core professor for plenty of power and a third-generation butterfly keyboard. All-in-all, the MacBook Pro is a hearty contender for best laptop of the year.
Number Three: LG Gram
LG's new update to its well-received Gram notebook has a lot of things going for it. There is the portability factor for one, as it packs a mighty punch in a relatively small package, weighing in at just 2.1 pounds. This laptop is also durable, as it's made from metal alloy, and has met military-grade requirements for drop protection. Inside, you'll find a hearty 72WHr battery good for a whopping 22.5 hours of usage, plus an Intel Core processor from the eight-gen U series. Other features include a fingerprint reader and multiple ports, including HDMI and microSD.
Number Four: Dell XPS 13
The XPS 13 is Dell's first full redesign in about three years, and it's nothing short of awesome. In addition to major improvements on things like power, durability, and portability, this laptop also has style. Stain resistant, UV resistant woven glass fiber adorns the XPS13, and inside you'll find an Intel eighth-gen Core processor. Included is a high-performing battery good for up to 20 hours of usage. There's truly not much you won't be able to do with this by your side.
Number Five: Lenovo Yoga 920 (14)
Lenovo's Yoga 920 laptop is superior to others in its class for several reasons. The 920 boasts cool features like long-range voice-activated support, an optional pen with pinpoint accuracy, and a brilliant 4K display ideal for entertainment. Incredible responsiveness, Windows Ink, and access to Windows Cortana (the electronic assistant) leaves little room for worry if you're always on the go.
Number Six: HP EliteBook x360 1030
HP's third-generation EliteBook x360 1030 is impressive in both design and performance. This notebook was reduced in size for convenience, and it's loaded with other features that strive for the same. It's lightweight at 2.76 pounds and comes equipped with a powerful eighth-gen Intel processor, along with 18 hours of battery life. It also offers the option of LTE connectivity so you can get things done even without Wi-Fi.
Number Seven: Asus ZenBook Flip S UX370
The ZenBook Flip S UX370 is not your ordinary 2-in-1 laptop. It's ultra-thin and lightweight, with powerful components that can tackle most things with ease. Within you'll find a new Kaby Lake R eighth-gen processor, more than enough RAM and a variety of other features bound to delight users, including a fingerprint magnet. If power is what you want, Asus brought the goods.
Number Eight: Lenovo IdeaPad Miix 520
The 2-in-1 laptop/tablet hybrid is growing in popularity, and IdeaPad's Miix 520 is one of the best of the bunch. Not only is it affordable, but it's got power by way of its eighth-generation Core i5 CPU, which is still more powerful than some with Core i7 capabilities. And while its battery life could use some improvement, overall, the IdeaPad Miix 520 is a suitable choice for those seeking a 2-in-1 with major potential.
Number Nine: Huawei MateBook X Pro
Huawei is a lesser known brand in the laptop world, but that doesn't make the MateBook X Pro any less spectacular. This 13.9-inch model is equipped with an eighth-generation Intel Core i5 – i7, and carries with it an excellent battery life. A rich display and sleek design overall render the MateBook X Pro one of our favorites, and with a moderate price point, it's within reach for many.
Number Ten: HP EliteBook 1050
The EliteBook 1050 is the first 15-inch in the Elite 1000 series, and it takes complete advantage of its size. Its display can reach up to 650 nits of brightness, and it also comes with an integrated privacy screen. It's up to par on performance, with Intel's eighth-generation H series processor, and a capacity for 32 GB of RAM. Its battery life is nothing to scoff at either. The EliteBook is good for 16 hours on a single charge, rounding out the benefits of this notable laptop.