Getting the Most Out of Your Business Website
Today's internet has literally changed the way businesses function. It has redrawn the boundaries and changed the rules of competition in today's business climate. The Internet has allowed business owners to create much closer relationships with their customers. In addition, it has given consumers more power through access to unlimited information.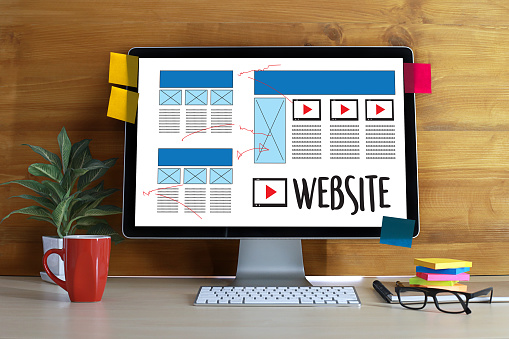 Regardless of the size of your business, you probably have a website and a pretty decent one at that. In fact, websites are not as costly as they once were to build and manage. Thanks to the increase in the number of web developers and online sites that host websites, almost anyone can have a website if they want it.
For savvy business owners, their website is the key to greater sales and stronger relationships with customers. A successful website is constantly adding new content that offers value to consumers. They update the site regularly with the latest security and technology. A company with an amazing website almost always excels in the marketplace over competitors who don't. Why? Because they understand that their business website is the voice of their company online.
Websites have become a valuable commodity to business owners. They are the first stop of prospective clients who want to find more information about your business. Current clients also rely on websites to find product information and updates. Your website is the place where all the action takes place each day. Your website can make or break your business. Knowing how important websites are, most business owners are interested in learning how they can get the most out of their site.
Allow your website to communicate your story to clients
With the understanding that websites do speak to your customers, you should ask yourself the question, "What do you want your website to say to customers?"
Each day, you must make sure that the information you provide is important to your customers and that it's accurate. Does it resonate well with them? Will it make them want to purchase your products or services? Image is everything in a business. Since your website represents the first image that people have concerning your business, it's important to make a good first impression. As it is commonly said, first impressions matter. What story do you want the website to tell?
The best websites always tell a compelling story. Sometimes your story is all about why you started your business and sometimes it's more about your roots, your background. Great businesses have a unique reason for their existence. Bill Gates got the idea for Microsoft when a friend, Paul Allen, showed him the 1975 issue of Popular Electronics. This issue featured a story on the Altair 8800, one of the first microcomputers. Both Gates and Allen saw the potential for developing a programming language for the computer. The rest is history.
In putting together the story behind your business, it may be necessary to hire a good writer to help craft the message. This expense is well worth it. Once you create a great story that customers can relate to, your next job is to write professional content for your site. Though your budget may initially be small, you can go back and redo this once you have the time and money to do so. Usually, your website is a work in progress anyway. It is constantly evolving and changing as your business grows.
Good content will make customers feel that they need your goods and services to meet a need in their lives. You should include information about how these goods or services are better than those offered by others in the same industry. Many of today's most successful brands have become indispensable to their customers. Think about how Prada and Louis Vuitton have changed the handbag industry. Their customers feel a strong urge to own one of these exclusive handbags and many are priced in the thousands of dollars.
Provide contact information
Imagine locating a website online, and the information given therein is attractive. You read through their homepage and look at what they offer. In your mind, you are convinced that this is it. They are exactly what you need. You pick up your phone while scrolling down, looking for the contacts page and you find nothing. No phone number, no email address, no physical address, nothing. This can be frustrating, right? In fact, most people will get disheartened immediately. They will look elsewhere for other products. Consumers feel that if there's no contact information, then the business must be shady. So it's important to include your physical location, email address and phone number. This degree of transparency tells consumers that you have nothing to hide.
Collect lead information
If you have been in business long enough, you know that some clients will visit your website more than once before they decide to make a purchase. Do not despair, this does not mean that your website is not fulfilling its mandate. It simply means that many customers enjoy doing lots of shopping before they make a purchase. In the meantime, you can collect lead information using a lead capture form. This will give you the opportunity to send them regular email updates about specials you might have. Often, if a prospective customer gets an email telling them they can get a discount by making a purchase right away, they will do so. Everyone loves to get a great deal.
User friendly navigation
The whole science behind user experience has grown tremendously in the past ten years. A site must be intuitive, responsive and user friendly. You cannot afford to hide things or make it hard for customers to get information. Websites that are difficult to understand end up chasing customers away. Try to get regular feedback from users. Find out what people are saying about your site. Correct any issues you may have right away.
Final thoughts
All in all, if you maximize each component of your website, you will discover the magic that a great site can offer. Customers will visit often. They will tell their friends about your site. An amazing website truly is priceless.