Upgrade your outdated PBX phone system with 3CX from InfiNet Solutions.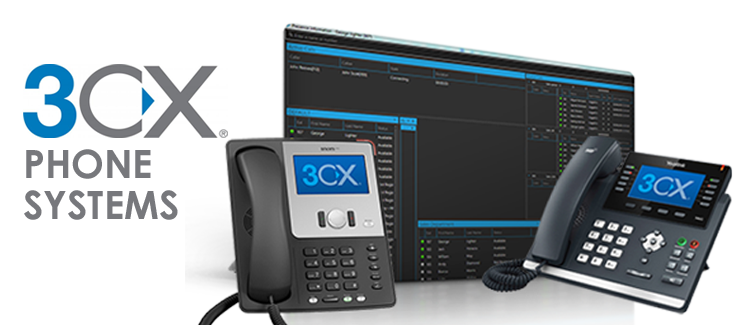 The biggest hurdle to adopting a new business phone system is the setup. Installing and maintaining any new technology infrastructure is tricky without the right support – so why not leave all of that hassle to the experts?
With both on-premise and cloud deployment options to choose from, your business can take full advantage of a PBX system that suits your specific needs. Whichever option you choose, your business will benefit from:
Straightforward Installation and Configuration:
Use pre-configured templates to connect with prominent SIP trunks within minutes
Plug-in an IP Phone or Gateway to your network for automatic configuration
Avoid interop Issues with 3CX tested IP Phones
Use Of An Easy Management Console To:
Create, edit and delete extensions and DIDs
Upgrade IP Phone Firmware.
Reprovision & reboot IP phones remotely
Import or delete all your important contacts at once
Anywhere Access From Any Device:
Take your extension wherever you go and work remotely from anywhere
Make free VoIP calls with your smartphone
Save battery life with "PUSH" notifications
Connect all clients simultaneously via SIP Forking
Most Progressive Android & iOS VoIP clients in the UC market
Initiate IP Phone calls from your desktop with CTI mode
Use the Receptionist view to make calls, then drag and drop calls for a swift call transfer
Launch calls directly from your CRM; integrate seamlessly with Office 365, Google contacts or Internal Phonebook
Automatically obtain reports on customer and agent activities and view the presence of your colleagues
Includes Wallboard and Q-Manager view
Integrated WebRTC technology resulting in reduced bandwidth usage
Click to Call Chrome Extension
Integrated Video Conferencing:
Free for up to 5 participants
Unlimited users regardless of edition
Initiate a conference with one single click
Correlated operability between VoIP and video
Bandwidth Management and Control
Remote control assistance for quick and easy troubleshooting
Pre-upload PowerPoint & PDFs before meetings
Easy to use polling tool for feedback
Top-Notch Security and Backup:
Secure web server configuration
Automatic detection and blacklisting of known SIP Attack tools
All traffic to 3CX clients is encrypted via SBC
All voice traffic is encrypted via SRTP
Automatic generation and management of SSL certificates
Revolutionary VoIP Security with an A+ rating from SSL lab
Automatic Failover for instant backup
Encryption between the browser and the website via HTTPS
Budget-Friendly Solutions:
Cut down on your phone bill by up to 80%
Pay for licensing based on number of simultaneous calls instead of extensions
Avoid per extension licensing and pay per PBX instead
Make free Inter-office calls and branch calls
Use prominent SIP trunks to reduce outbound call charges
Reduce travel expenses with integrated web conferencing
Eliminate 800 number phone bills with WebRTC integration
Use International DIDs and IP Telephony so your customers can call in at competitive rates
Retire your old, outdated PBX solution and upgrade to the efficient, affordable, and feature-laden IP phone solution provided by our partners at 3CX. This is the business communication system your team has been waiting for.
Ready to learn more about what 3CX provided by InfiNet Solutions has to offer? Contact us at info@omahait.com or (402) 895--5777 today. We're the business technology experts businesses in Omaha trust.